Why choose UK to study abroad?
Posted By: Marthala Solutions | Post on: Dec 27, 2022, 5:42:00 AM | Reading Time:
The QS Best Student Cities 2023 survey ranking includes 15 states of the United Kingdom, which goes to show how highly regarded UK education is among international and Indian students. The country boasts 164+ universities, colleges, and b-schools - 89 of which are ranked in the QS World University Ranking 2023 list.
What's more, UK universities offer amazing courses, fantastic campus life, top-quality education, scholarship options, part-time job facilities, job opportunities after course completion, and much more.
Let's take a closer look at all these perks & reasons to study in UK, in detail!
· UK universities boast an excellent international reputation and often rank among the top in the world. Did you know that four of the global top ten are in the UK?
· You'll have the opportunity to meet and interact with over 200,000 international students from all over the world, learning more about different cultures and walks of life in a place of contrasts.
· There are wide variety of courses to choose from based on your interests and the requirement of skillset improvement, varying from business management to hospitality, tourism, finance & banking etc., along with possibility of dual honors degree as well. One most important thing is the duration of courses in UK is very short compared to other countries. UK universities are subject to regular inspections by the Quality Assurance Agency for Higher Education to ensure they maintain the high standards of learning expected.
· International students who are enrolled in an undergraduate or postgraduate degree course at a recognized university are allowed to work part-time during the academic term for up to 20 hours per week, and full-time during the periods of holidays. Employers are always looking for high quality graduates who have specific skill sets. UK education is recognized by employers, universities and governments worldwide as being of high quality, and this will give you a solid foundation to help you achieve your potential.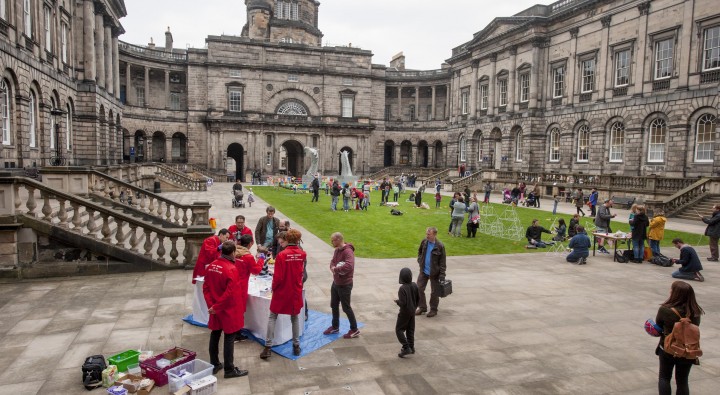 University of Edinburgh

Scholarships in UK:
All UK universities offer multiple scholarships to students each academic year. Whether you have outstanding academic achievement or need extra support, universities will try to fund you (if eligible). Some scholarships provide you with a specific amount of money annually, while others cover your tuition fees partially or in full. If you receive a scholarship that covers your tuition fees, you won't have to worry as much about the cost of your education.
Following are few of the scholarship options:
| | | | |
| --- | --- | --- | --- |
| S. No | Name of Scholarship | Details | Amount in GBP |
| 1 | Scotland's Saltire Scholarships | The scholarship is offered to Master's students in science & related courses | 8000 EUROS |
| 2 | Global Wales Postgraduate Scholarships for International Students | PG students in India, the USA, Vietnam, & countries of the British Union are eligible for this | 10,000 EUROS |
| 3 | Transform Together Scholarships for International and European Union (non-UK) Students | All full-time UG & PG students are qualified | 50% off on tuition fees |
| 4 | Nottingham Developing Solutions Scholarships | 105 Master's students of any discipline will be eligible for this scholarship | 50-100% off on tuition fees |
| 5 | UCL Global Masters Scholarships for International Students | 70 students doing their Master's Degree will be eligible | 15,000 EUROS |
| 6 | Allan & Nesta Ferguson Charitable Trust Masters Scholarships at University of Sheffield | All PG students at the University of Sheffield will be qualified to have this scholarship | 100% off on tuition fees |
| 7 | UWE Millenium Scholarship for International Students | Students pursuing the eligible PG programs will stand a chance to get it | 50% off on tuition fees |
| 8 | The Glenmore Medical Postgraduate Scholarship at the University of Edinburgh | Both full-time and part-time students at the University of Edinburgh are eligible | 100% off on tuition fees |
| 9 | Eira Francis Davies Scholarship at Swansea University | Students pursuing their PG degrees in Medicine are eligible | 100% off on tuition fees |
| 10 | Glasgow International Leadership Scholarships | All Master's students at the University of Glasgow will be eligible | 10,000 GBP |
(Source: www.aeccglobal.in)
More scholarships in UK options can be found out at
study-uk.britishcouncil.org//scholarships-funding?_ga=2.144978108.961175445.1671169332-5932553.1671169332
University-of-Southampton - England

Fees Details to study in UK:
The United Kingdom is a country that is increasingly becoming more popular among Indian students for overseas education. There are a few things to take into consideration before making your decision, such as the cost of tuition fees. International students' tuition fees can range anywhere from 9000 EUROS to 38,000 EUROS, depending on the course and place of study.
| | | | |
| --- | --- | --- | --- |
| S. No | Program | Average Annual Fees (EUROS) | Average Annual Fees (INR) |
| 1 | UG | 8000 EUROS - 30,000 EUROS | INR 7,10,000 - INR 27,00,000 |
| 2 | PG | 12,000 EUROS - 35,000 EUROS | INR 10,70,000 - INR 31,00,000 |
| 3 | Engineering | 11,880 EUROS - 23,760 EUROS | INR 12,00,000 - INR 24,00,000 |
| 4 | Medicine | EUROS 30,548 - 64,652 EUROS | INR 28,00,000 - INR 61,00,000 |
(Source: www.aeccglobal.in)
UK Student Visa Details:
According to the latest data, student visa applications to the UK from India have increased by 84%. In response to this, efforts are being made to improve the processing time for UK study visas. Students who wish to study in the UK for more than six months need to be aware of the three following types of UK study visas:
· The Short-term UK Study Visa is for those who want to study an English language course for up to 11 months.
· The Student Visa is for students coming to the UK for higher education. Also called as General Student Visa (or) Tier 4 Student Visa
· The Child Student Visa is for children between the ages of 4 and 17 who wish to study at an independent school in the UK.
To be eligible for a student visa, an applicant must:
· Have received an offer of an academic course from a licensed student sponsor
· Have sufficient financial resources to support themselves during the duration of the course
· Be able to speak, read, write, and understand English
· If aged 16 or 17, have consent from their parents
The UK Student Visa fee (formerly Tier 4 (General) Student Visa) is 363€ if students are applying from outside the UK.
For students interested to study abroad in UK, we have overseas education experts who can guide you to take right decisions at right time. Call us @ +916302604374 or visit https://www.marthalasolutions.com/